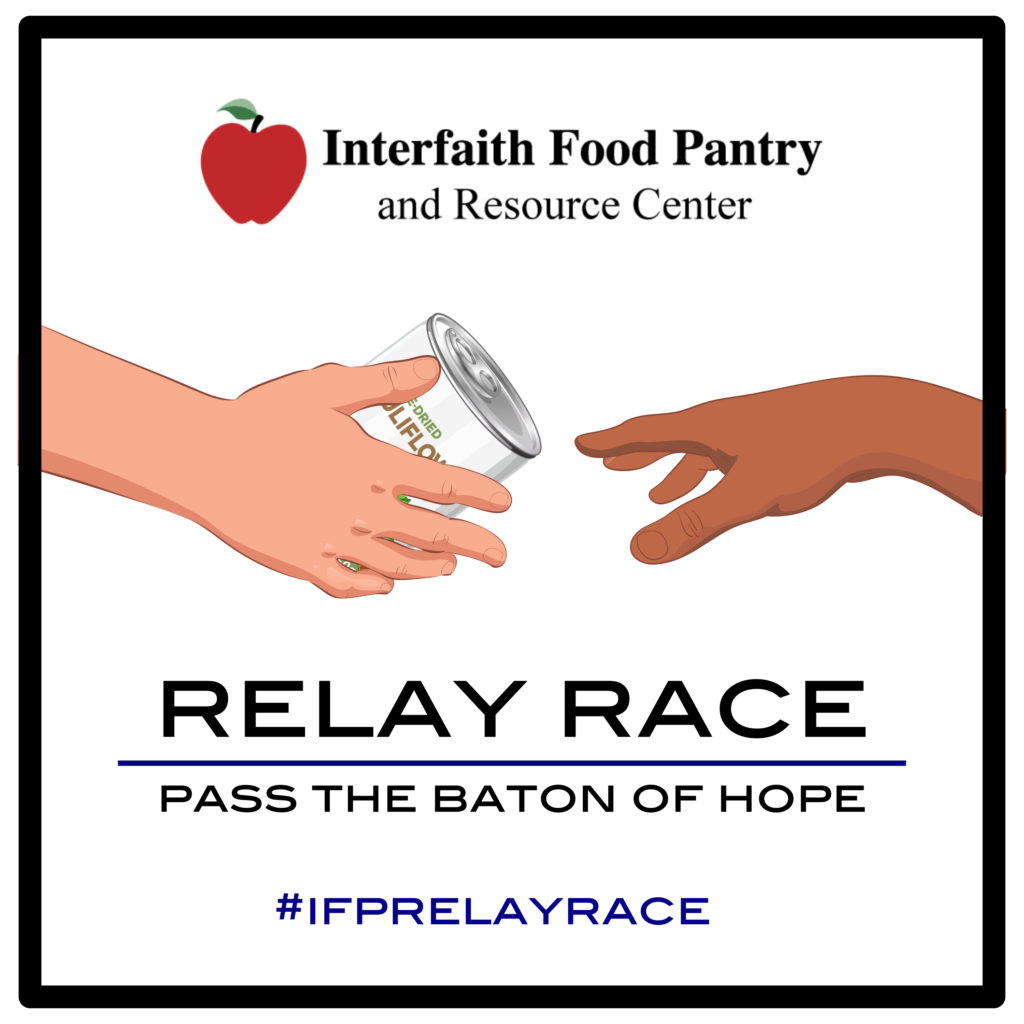 Now that shelter-in-place has been lifted and the weather is fine, join us in putting that pent-up energy to good use! IFP's Pass the Baton of Hope is designed to engage all ages and fitness levels in raising awareness about food insecurity.
How to participate
Get out and get moving! Choose any outside activity – walk, run, swim, dance, jump, run through a sprinkler! Whatever it is, snap a selfie or take a video of yourself in action. Record or write a short message about your active awesomeness and say something (anything!) about hunger. Share it with your world on Facebook, Instagram, TikTok or Twitter and "Pass the Baton of Hope" by nominating someone in your social circles to follow in your fabulous footsteps. Be sure to use the tag #ifprelayrace and to tag whoever you are passing the baton too.
Here's an example of what you might post: I just walked 4 miles to raise awareness about food insecurity in Morris County. I'm passing the Baton of Hope to my Aunt Tilly! Auntie, you have been nominated to do an outside activity, post yourself in motion and mention you've done so in an effort to raise awareness about food insecurity. Then pass the baton on to someone else. Knowledge is power! Let's keep the Baton of Hope in motion!

TikTok: @interfaithfoodpantry
Hunger Facts
To donate to IFP text 'hunger' to 26-989.
This year we have distributed nearly 500,000 pounds of food.
We accommodated over 8,000 family visits (through our Pantries and Mobile Programs).
We enrolled 200 new families, plus 200+ new seniors.
We expanded the number of Mobile Pantry Sites from 19 to 26.
1 in 11 people struggles with hunger
1 in 9 children struggles with hunger.
A household that is food insecure has limited or uncertain access to enough food to support a healthy life.
Nearly 300,000 New Jersey residents, subsisting on poverty-level income, are not being reached with federal food assistance that could help reduce hunger.
13.2% of New Jersey children suffered from hunger, or more than 260,000 children.