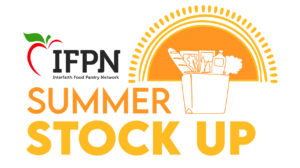 Summer Stock-Up Challenge – Stock Up and Stop In!
It's that time of year again when our schools, youth groups and other partner groups will be heading off for Summer break. Unfortunately, hunger doesn't take a summer vacation! Can you help to stock our shelves this Summer?
Organize a food drive in your neighborhood, at your camp, or through your sports team. Place a bin to collect food in a designated area, collect outside of your favorite grocery store (be sure to get permission), deliver empty bags (we can provide them to you) for your neighbors to fill – be creative! Create a social media campaign to publicize your efforts and we may select your campaign for our pages.!    Tips to organize a food drive and our current food needs can be found here: https://www.mcifp.org/donate/donate-food/.
Once you've completed your challenge, schedule a time to stop in and see us.   When you drop off the food, we're happy to give you a quick tour so you can see how the food you donate works its way through our facility and out to our clients. Contact Val Schuszler at VSchuszler@mcifp.org to schedule your drop off and let him know if you would like a tour.